Description
USA USA USA USA USA USA USA USA USA USA USA USA USA USA USA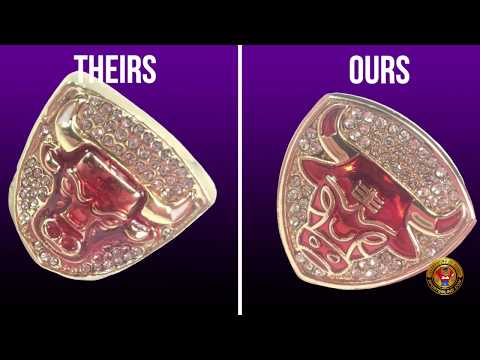 "Watch this awesome video to see how we make our Championship Rings!"

"We compare all the "Other" rings to "Our" Championship Rings."

"Spoiler: There is a huge difference!"

Mobile Users CLICK HERE To Watch The Video!

Check out our Sister Company, SportsBling_com, here on eBay!

SportsBling_com offers the same rings in much higher quality Solid Brass!
This Listing Is For A Men's Size 11 Ring.

Other Sizes Can Be Custom Ordered At No Extra Charge.**

Click HERE To Order A Different Size And/Or To Customize Your Ring.

If you want a Size Other Than 11, Please Do NOT Purchase This Listing.  Instead, click the link above, choose your size (and any other custom options) and place your order using that listing.
Please be sure to send us a message to tell us exactly which ring you wish to purchase.
Please note that custom ordered rings, including alternative sizes, take up to 30 days to manufacture and deliver.
Our Rings Come Packaged In A High-Quality Black Velvet Bag.

Upgrade To A Very High-Quality Custom Cherry Wood Display Case!

We Have Many Options Starting At Only $9.99*** Click HERE!

"This is the latest addition to our ever-growing catalog of over 1000 Championship Rings!"

"We think you'll love it!  We sure do!"

We have over 1000 different Championship Rings in stock.  We are listing them as quickly as possible, but if you don't see the ring you want, be sure to Contact Us, as we most likely have it.  If so, we'll list it right away so you can order it and receive it within just a couple of days!
All Of Our Rings Are In Stock In The USA And Ready To Ship Today, From Ohio!

Most Orders Arrive Within 2-3 Business Days!

Our Championship Rings are made from very high-quality materials and are all Top Quality Rings made by Master Jewelers and Highly Skilled Craftsmen.



Each Ring is Hand-Crafted.  There is no automation or other machinery that mass produces our Rings.  Instead, they're made the old-fashioned way, by highly skilled Master Jewelers who do nothing but make Sports Jewelry all day, every day.



Our Rings are "NOT" the cheap, lightweight, poor quality, Chinese Knockoffs that ship from China and take more than a month to arrive.  Look at the "Ours vs Theirs" images in the banner above and in our video to see what "Their" typical Chinese Rings look like, then compare those images to "Our" Rings.  See the huge differences?



Our Rings are very heavy (average of ~80 grams each), Solid (not hollow, like the competition), and are absolutely Top Quality with Deep Engraving.



We use A++ CZ Stones and our Rings are 18k Gold Plated.



We took great care to photograph every single Ring from multiple angles so you can see exactly what to expect when purchasing a Ring from us.




The photos are from our actual inventory and are not professional stock photos.  Our Rings are Top Quality and would be hard to distinguish from the originals!
We Can Also Customize Any Ring.  Here Are The Things We Can Do:

        

Custom Size - Any Size US 8-13 - $0*



        

Change Color From Gold To Silver (Or Vice Versa) - $10*



        

Change Player Name to Your Name (Side of Ring) – $20*



        

Change Player Number to Your Number (Side of Ring) - $20*



        

Add Inside Inscription – $20*



        

All Four of the above options (Color, Name, Number, Inscription) - Only $49!*



        

Totally 

Custom Ring using your own design - 

Ask

*
Be Sure To Contact Us With Any Questions Or Special Requests.
* Allow up to 30 days for your Custom Ring to be manufactured and delivered directly to you.
  

** If you are requesting a Size other than Size 11, please allow up to 30 days for delivery.  There is no additional charge to order a Different Size.


*** Click "Add To Cart" and purchase both a Ring and a Display Case at the same time to receive the discounted/reduced price on your order.
Payment & Security
Your payment information is processed securely. We do not store credit card details nor have access to your credit card information.